"HANNA"
4 MONTHS OLD: 40 LBS 17" TALL
SIRE: BREKER'S THE BOURNE SUPREMACY "HURLEY" CGC, OB1, WST
DAM: HARDBODIES BAILEY CGC, ATTS
REG: SABA
ID: TATTOO
EYES: CLEAR
Hanna is Hurley and Bailey's first litter they have ever had.....most exceptional pups! Hanna has absolute perfect conformation, we expect MANY blue ribbons. She is excelling well in her OB training, currently Hanna is in the S.T.A.R Puppy program and is going to test within the next 8 weeks. I plan to do Therapy Dog Work with her as she is very sweet and gentle. Hanna posses drives for working that are off the charts for our breed, she has high prey drive, ball drive up the wazzoo, she will not put a ball down, and she has natural retrieval instincts, Nothing but the best produced by Hardbodies K9.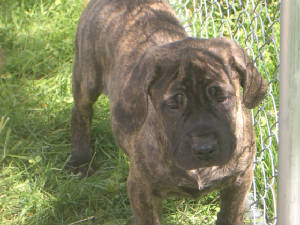 11 Weeks old