OWNER: ROBIN GINDOY
FOUNDER OF THE SOUTH AFRICAN BOERBOEL ASSOCIATION
FOUNDER OF THE AMERICAN BANDOG BREEDERS ASSOCIATION
MEMBER OF:
ARBA
SABA
SHUTZHUND USA
IWPA
FORT WAYNE WORKING DOG ASSOCIATION
ABBA
CERTIFIED CGC EVALUATOR
LIC. RARE BREED JUDGE
NKC JUDGE
SABA JUDGE
ABBA JUDGE
Most of the world knows Robin Gindoy, when she owned Legion's american bulldogs she produced over 30 Champions, over 20 working titles dogs, many BIS winners, produced the National Irondog Champion, One of the most Titled American Bulldogs in the world. Put the only SchH AD on a Boerboel, put the 1st ARBA Championship on a Boerboel, Put the 1st Master Championship on a Male and Female Boerboel, she has titled dogs in Weightpulling, Shutzhund, Hogcatching, Irondog, and the list goes on.
CO OWNER: ZACK OWSLEY
NUTRITION SPECIALIST
CONDITIONING OF THE DOGS
MEMBER OF SABA
MEMBER OF ABBA
A WORD FROM ZACK:
ALL OR NOTHING!! Over two years ago I met my fiance and was very intriqued with Robin and her Champion Boerboel "Vegter". As I became familar with the breed I became very infatuated and attached which led to my love for the South African Boerboel. Myself, I am a serious body builder that is all about nutrition. Further knowledge about dog nutrition coinsides with my bodybuilding and everyday nutrition. I compared human nutrition with k-9 nutrition and a combination of suppliments along with different dog foods have led me to dramatically improve my son "PRIEST'S" performance. Remember certain brands and formulas of dog food are not always right for every dog just like every human responds to different types of foods on a physical prespective. You can have a dog grow on various amounts of food along with different suppliments. Remember every dog has different genetic potential, requiring different formulas and supplimentation.
Only Boerboel to hold a SchH AD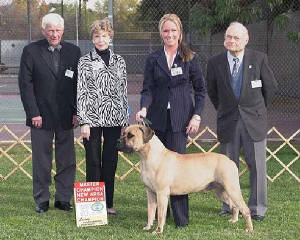 1st BIS Winner and Master Champion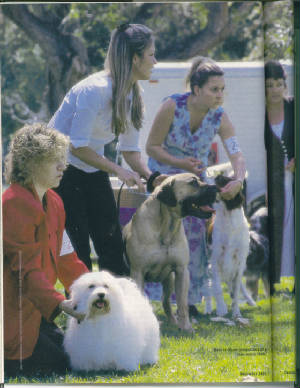 Robin and Seven Dog World Mag. 2003